You have tons of old sensitive data that needs to be disposed of properly. The problem is it's all in a hard drive. You want to know how to completely erase a hard drive and be certain that the information on it can never be recovered. You also want to use your hard drive again after it has been wiped clean. The best way to erase your hard drive and still be able to use it again is to use a data destruction software. You might even be wondering how data destruction software erases your data without rendering your hard drive useless after it has been wiped clean. Data destruction software uses different sanitization methods for erasing hard drives. What data sanitization methods do is overwrite data on hard drives so that the data on them can no longer be accessible, even by high-end recovering programs. Some data sanitization methods take longer than others, but usually it can take a couple of minutes to erase your hard drive, at the most, a couple of hours. The process is always the same when getting ready to use software to completely erase your hard drive. First, you will want to back up any information you might still need or want to keep. Once you erase your hard drive with data destruction software you will not be able to recover any of the information on the hard drive again. You should consider buying an external hard drive to back up any information. Data sanitization methods will be given so you know which software meets your data destruction needs. Here are a few data destruction software we recommend for you to use that are free.
NOTE:
All data destruction software can be downloaded into a disc or USB drive, or can run through Windows installation. One last thing to know is that if you wish to wipe external hard drives, USB sticks, or any other external data storage device, you will need to install the data destruction software to your Windows installation. If you wish to wipe your computer clean, you will need to download the data destruction software on to an external storage device.  
Darik's Boot and Nuke (DBAN)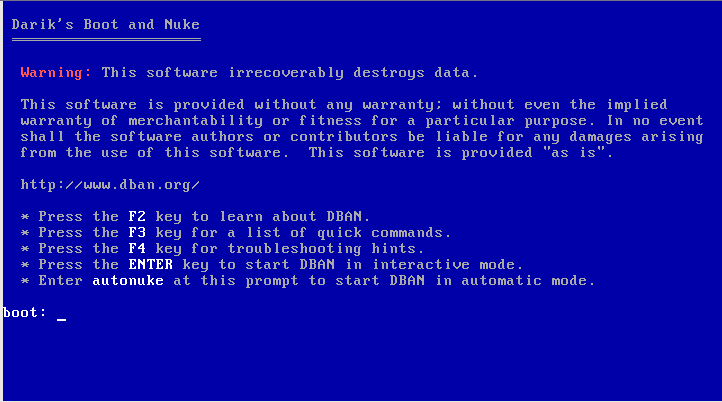 Darik's Boot and Nuke is a huge favorite to use, and comes highly recommended. It is recommended by most PC support experts, Geek Squad themselves recommend you to download DBAN for your digital data destruction. DBAN also has been used to to remove virus and spyware from Microsoft Windows installations. Data Sanitization Methods: DoD 5220.22-M, Write Zero, Random Data, Gutmann, RCMP TSSIT OPS-II.        
CBL Data Shredder
Anot
he
r option is CBL Data Shredder. CBL Data Shredder uses several different sanitization methods that meet government standards in the U.S., Germany, Canada, and the U.K.
Data Sanitizati
on Methods: DoD 5220.22-M, VSITR, Schneier, RCMP DSX.
ErAce
The ErAce software will overwrite your hard drive 1-100 times, the more times your hard drive is overwritten, the more it is less likely someone can recover your old data. It is best to have one hard drive installed at a time on your computer while using ErAce software, so you won't get confused about which ones (that are connected) have already been wiped. Data Sanitization Method: DoD 5220.22-M      
HDShredder Free Edition
The free version of HDShredder securely erases your data up to 6GB a minute. The free version is limited to security level 1. The enterprise (paid) version offers level 217. Data Sanitization Method: Write Zero          
KillDisk
The free version of KillDisk is a scale-down version of the SkillDisk Pro. KillDisk also comes with a Linux Console version. Professional versions include more than 20 sanitization
Data Sanitization Method: Write Zero
Positives and Negatives of Hard Drive Software Wiping
Some positives of using data destruction software is that it is cheap, easy, quick, and fairly secure. This is good enough for most business use. The negative is they're not 100% secure, as they can't be confirmed to be. Although data destruction software is widely used for sanitization of hard drives, it is important to know IT pros and Government agencies opt for more secure methods, like using degaussers.  
Alternative Options
There are other options to wiping hard drives clean. Though these methods won't allow you to use your hard drives again like data destruction software, you can be sure that no one will be able to recover any data from your hard drives, ever. Using a
 Degausser
 will permanently erase your hard drive by disrupting the magnetic domains on the drive. While disrupting the magnetic domains of the hard drive, the firmware in the hard drive is erased - which is the reason why you won't be able to use the hard drive after it is degaussed. The last alternative is to physically destroy the hard drive. You can destroy a hard drive by disintegrating it, melting it, shredding it, grinding it, punching it, crushing it, or pulverizing it. You can destroy it yourself or you can hire companies who provide physical destruction services. For a solid state drives, which is being used more often now, there is no other method better than using a
Solid State Destroyer
for your SSD destruction needs. [caption id="" align="alignleft" width="265"]
Solid State Destroyer[/caption] [caption id="" align="alignleft" width="265"]
Degausser[/caption] [caption id="" align="alignleft" width="265"]
Hard Drive Shredder[/caption]